About a week ago, Senator John Edwards endorsed Andrew Hurst and held a fundraiser on his behalf. Virginia Governor Tim Kaine will also host a fundraiser benefiting Andrew Hurst on October 28th.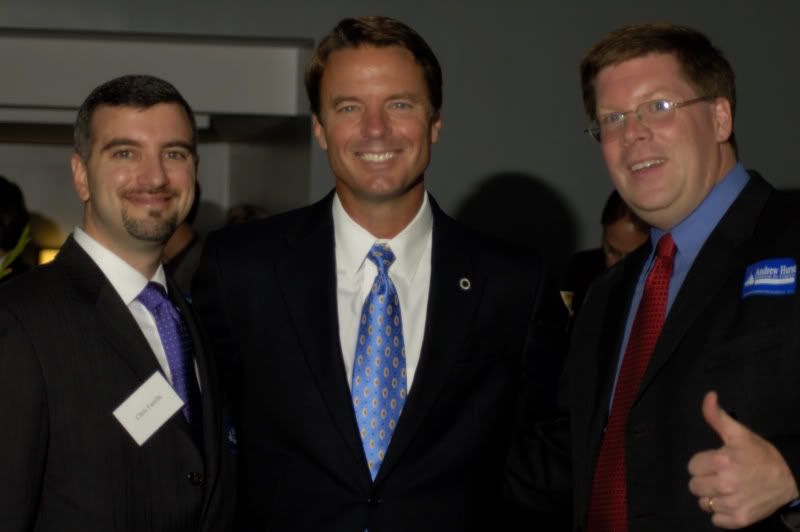 Last week, Senator Edwards said the following:


Senator Edwards inspired nearly 70 Hurst supporters yesterday by reminding us all that America "can do better."

"Under the leadership of George Bush and his Republican allies, we've lost standing in the world and failed to live up to our responsibilities as the only remaining superpower," he said.

"I'm proud to call Andy Hurst my friend and I'm proud to support his campaign."
"We are very excited to have the support of Senator John Edwards and Governor Tim Kaine. I look forward to representing the11th so we can take on corruption and stand up to President Bush's misguided policies," said Andrew Hurst.
This year it is extremely important that we take on Congressman Tom Davis, Chairman of Government Reform and Oversight who has refused to use his jurisdiction and investigative powers for what really matters. Davis has declined to look into the rampant corruption in Congress and in Iraqi reconstruction contracts as well as rejecting calls to scrutinize the recent Mark Foley scandal of which GOP leaders knew what and when.
Instead, Tom Davis, has sought to distract voters by investigating baseball and supporting a discriminatory amendment to the Virginia Bill of Rights.
Join Senator John Edwards and Governor Tim Kaine in supporting Andrew Hurst Today!
Click
HERE
to Volunteer or request bumper stickers or yard signs.
Click
HERE
to Contribute to the Hurst Campaign.
Nate de la Piedra is the Online Outreach Coordinator for the Andrew Hurst for Congress 2006 Campaign. The ideas expressed herein belong to Nate de la Piedra and do not necessarily represent those of Andrew Hurst, his advisors, staff, or "The Campaign".